There are plenty of occasions in life that call for a special and heart-touching gift. Flatware are a personalized gift that will be remembered and most importantly, be appreciated for many years to come.
While choosing flatware and spending your time learning more about different patterns for forks, spoons, and knives may seem like an insignificant task, make no mistake, flatware is an extremely important part of every dining setting. From enhancing the overall aesthetics of a restaurant to making family meals seem like a luxurious affair, your flatware plays a very important role.
Whether you are looking for special gift for someone, updating your age's old flatware set or giving your restaurant business a much needed upgrade, Corby Hall could be a stellar choice.
Complementing the overall theme of an event and enhancing the look and feel of the food being served – having a set of high quality flatware is essential. While statement pieces from Corby Hall are something most home and business owners desire, allow us to inspire you with the beautiful of these latest collections.
This article looks into five of Corby Hall's top-selling flatware collections and discusses how they can bring character and style to every setting.
Corby Hall has been a premier manufacturer of tableware in the hospitality industry for over 30 years. It has become an important part of table decors for hotels, restaurants, and catering businesses of all types as well as homes. With a wide selection of contemporary and traditional styles and unmatched quality at competitive prices Corby Hall is the perfect way to add style to every dining table and kitchen.
Having said that, Corby Hall has dozens and dozens of versatile collections to offer when it comes premium quality flatware. Before you are left wondering, "Where do I start from? Which materials should I select? How many pieces should I purchase," we must remind you of some of the most magical collections by the legendary Corby Hall.
Each collection is inspired by a city and depicts and a style that closely relates to their source of inspiration.
Step into the 18th century while bringing a Mexican flare to the dining table. Featuring twelve pieces per case, fabricated with 18/10 high quality stainless steel with 18% chrome and 10% nickel to protect the luster and ensure a lasting durability, this collection calls for a sweet celebration. Each piece in the collection is carefully crafted to give an antique finish and has a Corby Hall Laredo special design that looks similar to scales drawn on the handles.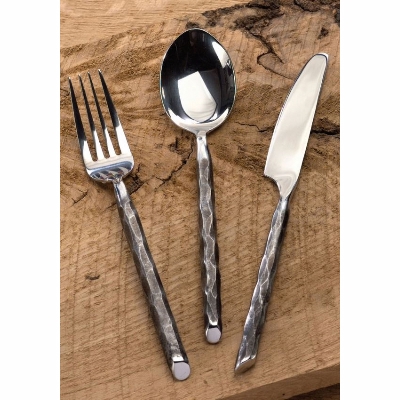 A classic mirror finish paired with a one of its kind leaf-life embroidery on every piece, the French Leaf by Corby Hall represents simplicity blended with a luxurious feel. This collection features french leaf embroidered around the edge of the handle. The design evokes the sophistication of french gastronomy. Each piece is fabricated with 18/10 high quality stainless steel with 18% chrome and 10% nickel to offer maximum durability and premium quality.
With an elegant curve on the tip of the handle of each piece combined with clear and well-defined edges, the Oslo is a symbol of sophistication and grace. This 18/10 forged premium collection is extra-heavy, ultra-luxurious and designed with squared handles to perfectly match the style of most modern kitchens and dining settings.
Capturing the beauty of the oldest state capital city in the United States, the Santa Fe collection by Corby Hall portrays history, elegance, and beauty. Each piece in the collection features a textured handle with mirror finish. The pattern on the pieces resemble very closely to that of a fish, make it a very prominent part of your dining table.
When was the last time a piece of flatware reminded you of all the good things in life? A classic style paired with a beautifully crafted teardrop shaped handle, the Troon by Corby Hall is simply beautiful. Sporting a style that can easily blend in with the overall style of every household, this collection is perfect for both casual and formal dining settings.
We must admit that choosing flatware can sometimes be the hardest decision to make. Each of the above mentioned collections by Corby Hall tells a unique story and promises a special way to complement the aesthetics of a certain setting and to match a distinct style.
These collections by Corby Hall are currently being offered in
two packages
: The
10-piece His & Her setting
and
the 20-piece Family setting
. Each package includes dinner forks, salad/dessert forks, teaspoons, dinner/oval soup spoon and dinner knives; along with the flexibility of purchase individual pieces should you require.